A group of Nigerian hairstylists recently gathered for a general meeting in Ado Odo, Ota, Ogun state, showcasing a myriad of impressive hairstyles.
The event, captured in a TikTok video by Temilade Concepts, went viral, amassing over 6.5 million views and leaving viewers in awe of the intricate designs.
The hairstylists paraded a collection of sophisticated hairstyles, collectively referred to as "Aganga."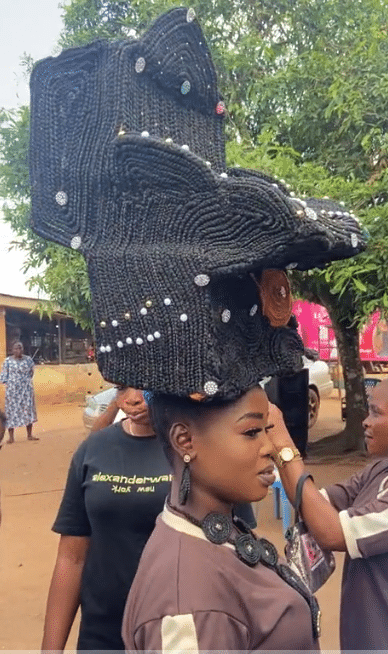 Among the talented individuals was Taiwo Mistura, who not only attended the meeting but also contributed to the showcase with two model hairstyles.
Mistura revealed that one of her creations demanded an astounding five days of meticulous work to complete.
In an interview with Legit.ng, Taiwo Mistura expressed her enthusiasm about the event.
 "I'm one of them. It was a general meeting. All the hairstyles are called Aganga. It took five days to make," she said.
Netizens Reactions…
@manda_dem said; "The girl in the green hair judging everybody."
@simply_wairimu commented; "Y'all calling it madness until it reaches vogue, you will start calling it art."
@Sigourney Pinas said; "Look at that lady with green hair how she looks."
@worthalifetime said; "It's like saying you have a place above my head."
@zee said; "The one in the white dress is really beautiful."
@GOSHEN MAPLE said; "After all the headaches for our country you still got mind add another wahala for your head." 
@griffithscarlene said; "You all looks beautiful God bless the hands that made your hair."
@Rafaela Santos said: "I give my blood for the crazy hair, I love you all." 
See below;
@temiladeconcept

♬ original sound – Temilade