In a video that has gone viral on social media, a young Nigerian man, Osita Ona is seen reacting with disbelief and shock upon discovering his unusual West African Examinations Council (WAEC) result.
The video, shared by @babaindia_comedy, captures the emotional moment as Osita reviews his results, revealing a eight F9 grades.
The video has sparked a buzz online, with netizens expressing a range of reactions to the boy's emotional response.
In the footage, the boy can be heard exclaiming in Pidgin English, "Wetin dey go on?" as he looks at the result sheet
His grades include F9 in subjects such as mathematics, biology, chemistry, Christian religious studies, literature in English, and others. The only saving grace is a D grade in Economics.
The authenticity of the video has been questioned by some netizens. Amidst the online discussions, some have raised doubts about the legitimacy of the results, pointing out that it could be a staged or manipulated video.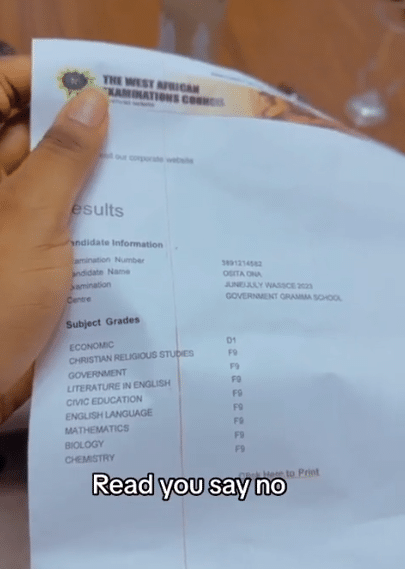 Recall that WAEC withheld the results of 262,803 candidates shortly after the body announced that the results were released.
Netizens Reactions…
enny_ rich said; "It is fake. "Chemistry and literature. "Chemistry is for science and with the list of subject I think it for arts student."
user5365 said; "Person serious boyfriend."
user8182949796774 said; "Pablo still stress write weac dey there dey say school nah scam."
sylvester chuks said: "Why economic come spoil your results na nawa person go read finish come fail economic."
White African said; "Why chemistry and literature dey the same result our educational system ehh." 
Twenty_ two savage said: "Igbo boy wey suppose go learn trade dey go write waec." jiskyo said: "Why I dey see literature and chemistry in the same result." Chiamaka Juliet said: "You failed..nah wetin they go on."
Kronos said; "Na economics spoil that result. E for be parallel." 
See below;
@babaindia_comedy

Olodo #viral #blowthisup #makemefamous #goviral #igbo #trending #viralvideo #laughoutloud #trendingnow #tiktok

♬ original sound – Babaindia🇮🇳