An Ethiopian lady has finally reunited with her biological family after being separated for 15 years, a separation orchestrated by an American agency.
The emotional reunion was shared in a TikTok video posted by @kalkidantems, detailing the young woman's journey of rediscovering her roots.
The woman, whose identity has not been disclosed, revealed in the video that she was sent to the United States as a child without her biological family's knowledge.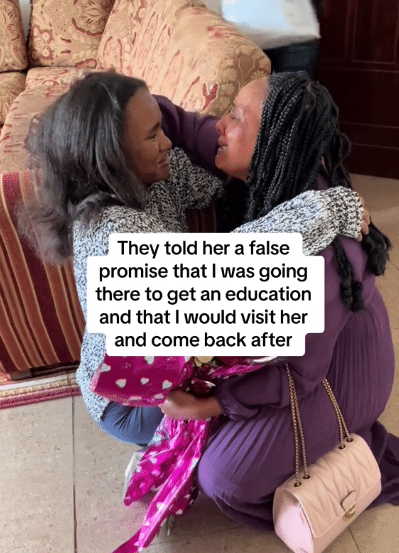 The heart-wrenching separation was facilitated by an American agency, which exploited her mother's lack of education, tricking her into believing that her daughter would receive a better life and education abroad.
For a decade and a half, the Ethiopian lady and her siblings endured the pain of separation, while their mother tirelessly searched for them.
The lady described the ordeal of growing up in an orphanage, under the false pretense of receiving an education.
The emotional toll of being away from her family weighed heavily on her, and she longed for the day when she could be reunited with her loved ones.
In 2017, a life-changing email reached the Ethiopian lady, and a familiar face was missing from the family portrait she received.
The missing link was her mother, who, determined to find her lost child, had been tirelessly searching for years.
The young woman, now an adult, narrated the momentous reunion in the TikTok video, expressing the joy and relief of finally being back with her long-lost family.
Netizens Reactions…
@Christine k said; "Another day to cry with strangers online."
@John Daniels commented; "I can't imagine how healing that hug must have felt. So happy for you." 
@crankybean369 shared; "She looks like she's trying to hug you for all the years she couldn't. A beautiful moment."
@JazzyB9481 explained; "This was such an extremely vulnerable moment, thank you for sharing it with us."
@Star said: "Our need for our mothers is primal."
See below;
@kalkidantems

This is a vulnerable moment with me and my momma…Wiping her tears and telling her that its okay and imnnot leaving her is something that ill never forget. She is the strongest person i know🤍 #fyp #adoptionjourney #ethiopia_ #adoptionfraud #childtraffickingawarness #internationaladoptionlawattorney #adoptionstories #adoptiontiktok #adoptiontrauma #humantraffickingawareness #adoptionagency #reunion #reunited #ethiopia #adoptionstories

♬ Love – Revember