A pregnant woman has left many viewers in stitches as she woke up her sleeping husband in the middle of the night.
The hilarious clip, posted by TikTok handle @bahhassanatu, showcases a midnight mischief that has resonated with thousands of viewers.
"It's 12 am. I can't sleep, and he's sleeping. You got me pregnant," the video caption read.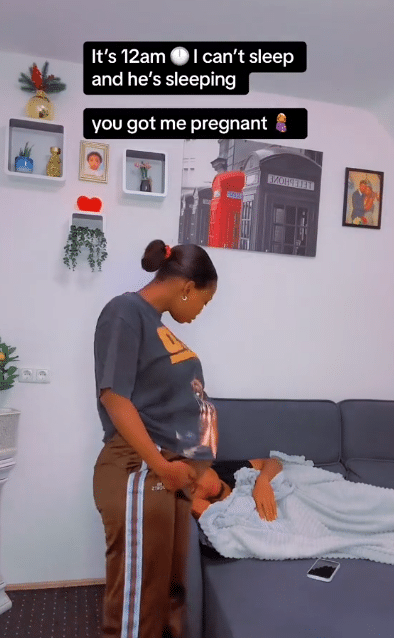 The expectant mother, clearly unable to contain her late-night energy, decided to have some fun at her husband's expense.
Armed with noisy cleaning equipment, she embarked on a pretend cleaning spree around her slumbering spouse's head, rousing him from his sleep.
As the husband groggily awoke to the unexpected disturbance, the pregnant prankster seized the opportunity to involve him in her nighttime antics. She encouraged him to place his hand on her protruding belly.
The video has sparked a wave of reactions online.
Netizens Reactions…
@take said; "I went through this hell…I was a very relieved man when she finally gave birth…she usd to wake me up at one craving for ice cream or cakes."
@Abmoney said; "No be you go stil enjoy the child later later Atleast the pikin go stil like you pass his/her papa."
@Isaac said; "Yh he needs to make sure you are asleep before he can also else he won't sleep as well."
@bellooladipupo713 said; "My wife must see this I finally found her twin sister."
@user5825986321497 said; "I can feel ur pain bro … I have been through this…" 
@~Gemini TWINS~ said; "Now, I will have to give myself another 3 years of rest because of this video."
@Barbiecash said; "Can you imagine make someone you cannot beat dey frustrate you . If care is not taken the frustration go make you say ahhhhh God why me."
@seunogunsola102 said; "During my time, I bought suya sotey! one day aboki asked me say… "Oga, Oga shey madam don born?" "And I answered yes ooo! she don born." 
See below;
@bahhassanatu

Pregnant women 😫😂#fyp #natujay1 #foryou

♬ original sound – Natujay