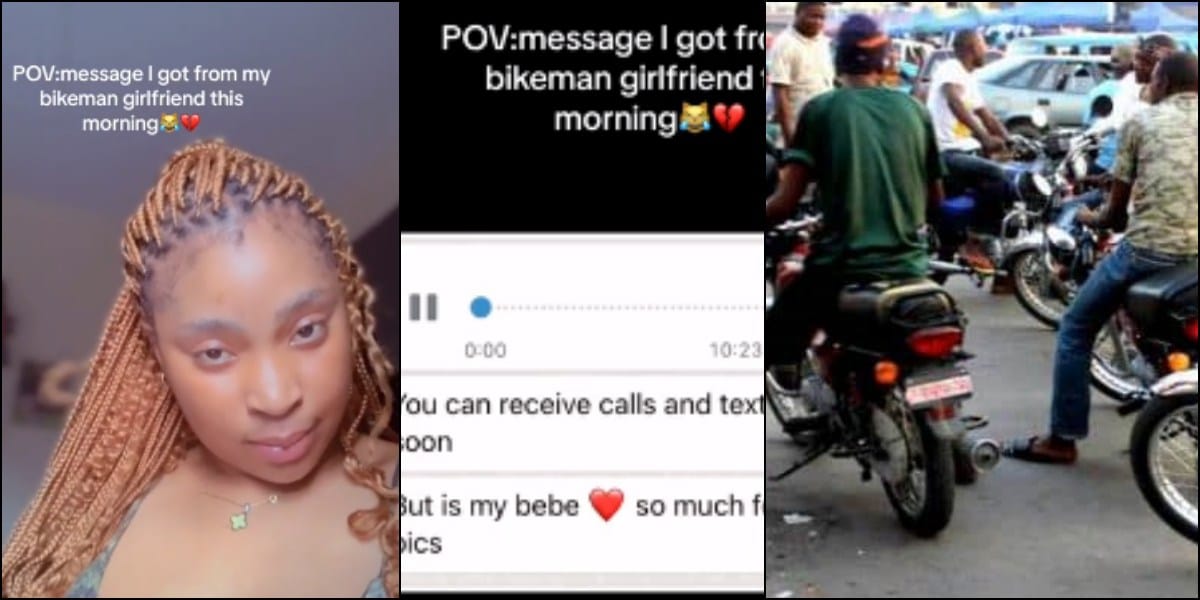 Lady surprised as she leaks the voice note she received from her bike man's girlfriend who is interrogating and challenging her on WhatsApp.
The girlfriend messaged the lady since she was curious to know the woman who was always making use of the transport services of her man who rides an okada.
She suspected from their frequent text messages that the lady was probably secretly dating her man.
The lady who shared the video said that she would have to seek the services of another bike man since the girlfriend thinks she is his side chick.
Olami__ said: "Nah Kim Nana voice be this."
Adexpenny05 said: "Nothing pain me pass that peeshur wey she dey emphasize on."
Kemi said: "God abeg o. Ekiti people."
Arewa said: "Uno con swear for her and her bf."
The lady said: "Hmm Wetin I wan talk nah to change bikeman."
Arike herbal care said: "You no get oraimo cord."
Texas said: "Omo when Meself go get person wey go dey secure me like this girl."
user720539368749 said: "Make that man just jaapa, she no fit let that man succeed!"
Annamia203 said: "Tell her that you don't understand yoruba so make she do voice note in English."
Watch video below …
@milola22

I woke up to dis😹💔i was short of words cuz it was not even funny at all😹😹she even called me on phone talking to me anyhow😹i just have to let it go cuz I didn't know what to do😹😹#goviral #fyp #funnyvideos

♬ original sound – Milola❤️