A Nigerian mother opens up about her tumultuous pregnancy journey, revealing skin rashes that took over her body and left her neck region peeling as if lacerated.
The video has taken the internet by storm, leaving netizens both astonished and sympathetic.
The mother, whose identity remains undisclosed, uses the Nigerian expression 'shege' to describe the troubles she faced during her pregnancy.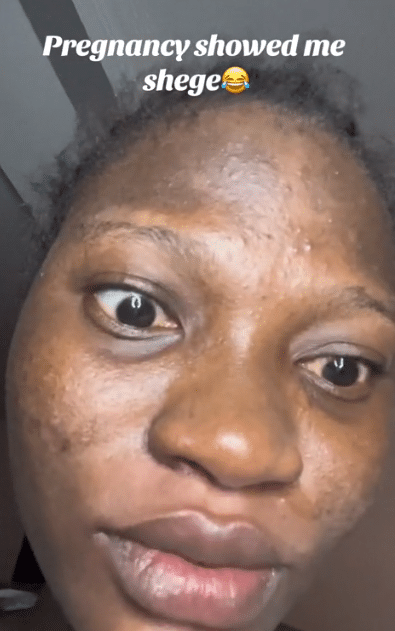 The term 'shege' is commonly used to signify trouble or difficulty, emphasizing the challenges she endured while carrying her baby.
In the short clip, the mother vividly describes how her skin, particularly in the neck region, was overwhelmed by rashes, presenting a distressing image of peeling akin to lacerations.
Additionally, her face displayed darkened tones and was covered in tiny, dark spots.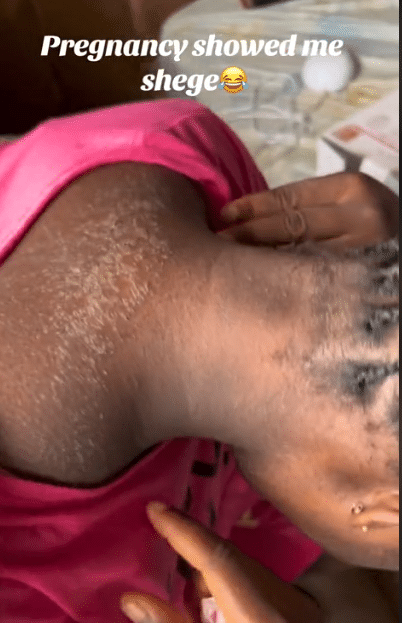 Despite the mother's physical challenges, the focus shifted to her adorable baby, who, in stark contrast, appeared immaculate and completely unaffected by the apparent skin issues encountered during the pregnancy.
Netizens couldn't help but draw attention to the striking difference between the mother's difficult experience and the flawless appearance of her newborn.
Netizens Reactions…
@Captainpee said; "I need to see her dad picture before I can say anything." @idojefavour said: "You suppose get boil join cause that baby is too cute."
@user3411974027072 said; "She even cross leg join after showing her mama shege. So beautiful."
@Olamideee said; "The shege was worth all the stress please."
@Perobae said; "I want to feel dis too oh lord bless me."
@Cutie said; "The fact that she managed to take all your beauty and still looks innocent."
@Magic asked; "I hope your skin is better now. Your baby is so worth it by the way." 
See below;
@laanadebajo

#pregnantlife #pregnanttiktok #pregnancyjourney #pregnant #fyp #foryou #viral

♬ original sound – Gospel Hotspot – Gospel Hotspot