A viral video capturing the moment the Ooni of Ife, Oba Adeyeye Ogunwusi Enitan, exchanged handshake with the veteran Nollywood actor, Pete Edochie spark reactions.
The video, which was shared on the verified Instagram accounts of Kanayo O. Kanayo and the Ooni, captured the actors' entrance into Elizabeth Jack Rich's 40th birthday celebration.
As they approached the Ooni's table, they enthusiastically greeted him with handshakes, followed by the customary and popular Igbo backhand handshakes.
Kanayo had captioned it, "Last night was awesome @peteedochie @babarex0 @chidimokeme and the very outstanding His Royal Majesty, Oba Adeyeye Ogunwusi Enitan, Ooni of Ife."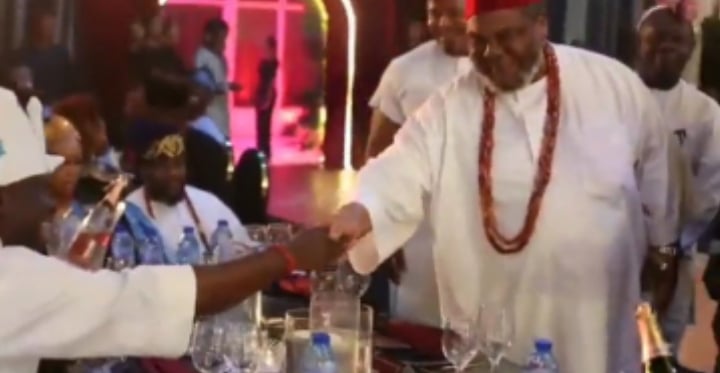 The handshake gesture has since sparked debates among netizens who tagged it a mere 'woke act' while others believed it to be normal among high-profile individuals.
See some reactions that followed …
Maxwell said: "The blame is on the Ooni of Ife for going to that kind of place and for also accepting a handshake from people. I'm not against the Nollywood stars but they are supposed to bow before the stool of the king of Ife. if it was the former Ooni of Ife who could try this and even give him a handshake?"
Yinka Poyigi wrote: "I visited different palaces in the east during the course or a project I was working on, and each time I want to greet the Igwe, I will ask to prostrate like an Omoluabi. Surprisingly, the Igwes always decline because it is not their tradition. The chiefs will gently ask me to stand up and greet, introduce myself and sit down.
"What a culture shock! But that's their tradition, so before you walk with your heads instead of your legs, ask yourself certain questions. 1. Was Ooni in his palace sitting on his stool when this happened? 2. Are the people in question from the same culture? 3. Is Idobale (Porstrate) always a sign of genuine respect? 4. Is Ooni a king of the two veteran Actors? 5. Was this event in Ife? I understand that Ooni is a king to some kings in Yoruba land and even a recognised first-class king in Yoruba land and if I meet him anywhere…my chest will be on the floor.
"I don't expect my Ibo brothers to do the same except when in his palace. When we travel around and experience different cultures, our exposure and ways of thinking will change."
Iamflappys stated: "If you don't respect yourself, no one will. If the real and former king is on the seat, this nonsense will not happen. I respect the work and talent of the legend but if the king starts respecting the throne and acts like a king, this madness will not happen. If anything remove your cap."
Noel Enomheons opined: "It looks like this king doesn't know what his culture expects of him. I'm still thinking of that man in Nigeria who shake hands with the great Oba of Benin in that manner. Even the president and other world leaders bow before him. Sorry to say! Pete Edochie just disrespected the king."
Ugezujugezu penned: "When you hear OKWU OTO EKENE EZE…….. now you understand it."
Lincedochie wrote: "it is a gathering of elites."
Watch the video below …