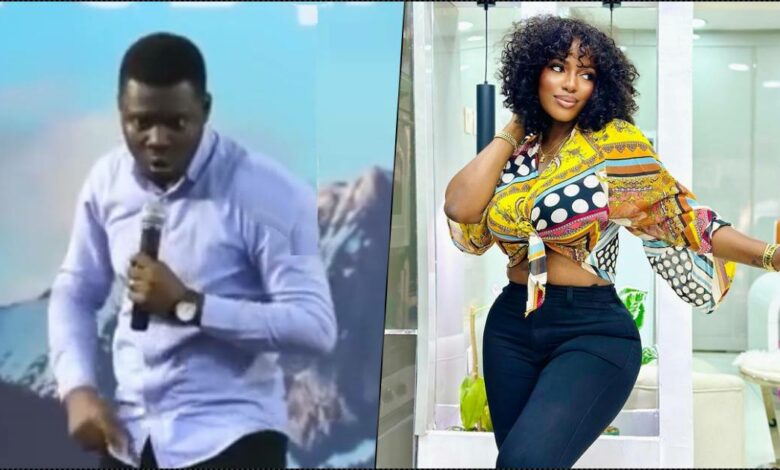 A preacher identified as Pastor Lawrence Oyor attacks the personality of the renowned chef, Hilda Baci while condemning her wardrobe choices as indecent dressing.
It would be recalled that the chef made a name for herself by attempting to break the Guinness World Record for the longest cooking hour and achieved a new record of 100 hours.
Pastor Lawrence Oyor during recent preaching stated that the dresses of Hilda Baci are part of who she is and because of some revealing photos on her Instagram page, she sells more than just food.
Trending:
Another Nigerian lady set to break Guinness World Record as she begins counting of rice grains (Video)
"Hilda Baci dresses indecently, you can know a lot about a person by the way they dress, it doesn't matter the Guinness world record she breaks, she is selling something but it's definitely not Food," he said in part.
Reactions that followed …
Officialdesire_ wrote: "Na still harlot God tell Hosea to marry for Bible, na harlot God still use help Caleb & Phinehas escape when they went to spy the land of canaan, na still harlot wash & perfumed Jesus' feet with the most precious oii from alabaster box .. so leave our harlot alone, we love her like that, God loves her like that Mr. Perfect Pastor. Pls focus on your ministry cause you have no idea of the grace she carries. T for thanks!"
Adamazi_singles_connect penned: "This one na Mumu preacher"
Oluwadremo__ stated: "Pure Truth ,if you don't believe go to court!"
Macaulayrume noted: "They always jump on what's trending leaving important issues.. I bet you where this church is the state the place the town more security issues happening.. but na watin trend for another city entirely na be their Aproko topic"
Watch the video below …