A Nigerian lady was left in tears of joy as she received a surprise car gift from her husband on their first anniversary.
The emotional moment, captured in a viral video, has resonated with many viewers online.
The video, which quickly became a sensation, depicts the unsuspecting woman standing in awe next to her newly gifted car.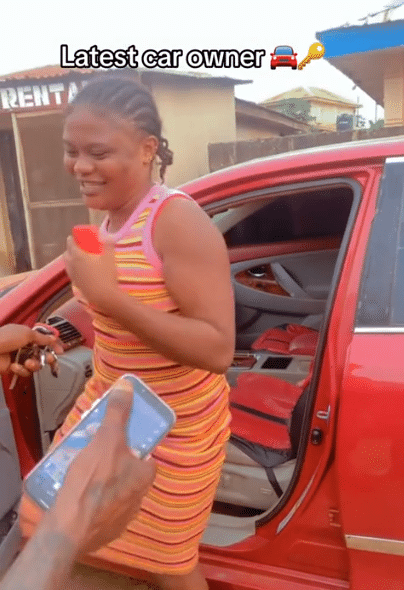 Completely taken aback by the lavish surprise, her wide smile and infectious joy were evident.
The woman had no inkling that her husband had orchestrated such a grand surprise, making the unveiling of the car even more special.
Social media users flooded the comments section with messages of admiration and well-wishes for the couple.
Many expressed their sentiments about the woman's incredible luck in having such a considerate and generous partner.
Netizens Reactions…
@Esiethope reacted; "Congratulations dear .God bless my man i want to experience this too." 
@Ola mommy 122Adeoye said; "I tap from this blessing."
@Queen Sonia said; "God bless my man i will love to experience this too."
@Betty butter said; "Congratulations baby."
@IjobaSKMoney said; "Congratulation ooo don't leave your bf ooo."
@Adesuyi Adejoke said; "Congratulations."
@Wealth amoke said; "Congratulations!"
@Omolara nurudeen said; "Congratulations I tap from this blessings inshallah." Ayo: "Na who calm go enjoy."
See below;
@amoke_5

A year anniversary gift from my baby 😘🔑

♬ Baba E Bere _ Dj Tainny – Sexy Dj Tainny