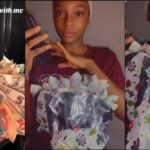 GistReel
A lady has shared her sister's priceless reaction as she suprises her with a money bouquet of 5, 10, 50 naira as a gift in a viral video.
The thoughtful lady decided to make her sister glad by surprising her with a money bouquet.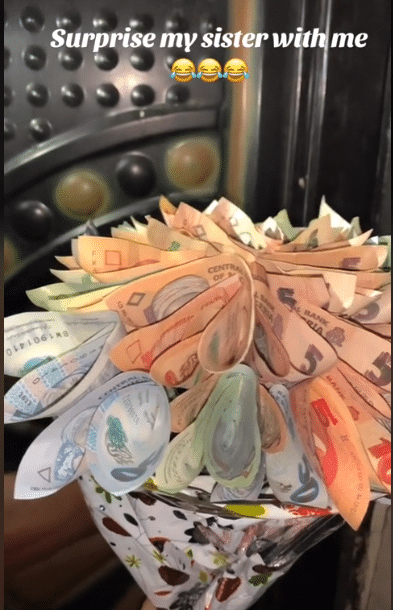 However, the gift had comprised of small denominations of the Nigerian naira. N5, N10, and 50 naira were seen comprising the bunch.
She shared the moment she took the gift and presented it to her sister.
The sister was at first confused, wondering what she was giving her the bouquet for. The lady insisted she took it and the sister burst out laughing and smiling happily.
See reactions that ensued …
Ladywhistledown said: "Life no hard na you dey expect dollars

"
Faithy remarked: "I have seen wat to give my sister next week


"
Excellentina Fashion Concept commented: "Its the thought that matters


"
Most high

penned: "First time seeing 5 naria after a long time
it looks like a new currency

"
favour love

reacted: "make nobody try this expensive play with me on my birthday oo cos my vex no dey good ooo








"
Watch video below …
@eesha_vibez

#foryou #viralvideo #tiktok #foryoupage #eesha_vibez #tiktoknigeria #moneybouquet #surprise #pulsenigeria

♬ Who Dem Be (Sped Up) – Toby Shang
@eesha_vibez

Replying to @judith money is money #foryou #viralvideo #eesha_vibez #foryoupage #moneybouquet #surprise #pulsenigeria

♬ Who Dem Be (Sped Up) – Toby Shang