A female graduate paid a tearful visit to her late father's grave, capturing the emotional moment in a TikTok video that has since gone viral.
The video showcases the graduate, still dressed in her sign-out outfit, expressing overwhelming emotions as she kneels before the sandy grave and rubs sand onto her body.
The heart-wrenching footage begins with the young woman visibly emotional as she sweeps the surroundings of her father's resting place.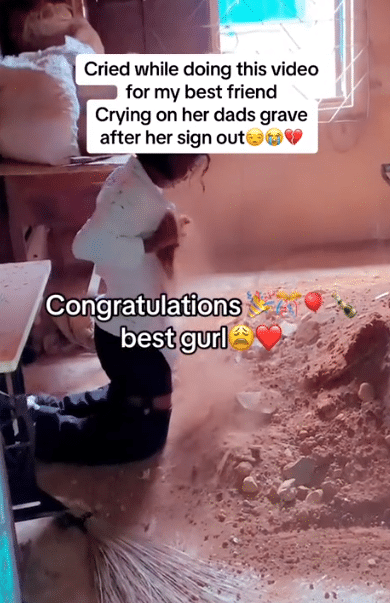 The significance of the moment is heightened as the graduate, wearing her signing out outfit, kneels down and gently rubs sand from her father's grave on her body. Tears stream down her face as she pays homage to her late father.
The video, recorded by the young woman's best friend, captures the raw and genuine nature of her emotions during this deeply personal moment.
The touching video has resonated with many viewers online, eliciting an outpouring of sympathy and support.
Many users have expressed their own experiences with loss and the challenges of navigating life milestones without the presence of loved ones.
Netizens Reactions…
@crysola said; "Why am I crying ….My Dad Died a day to my Signout, Writing my last paper was so difficult … Congratulations babes."
@articulate 42 said; "Omo, that's how I cried o…my dad died a year before I graduated…that man practically forced me to get that degree."
@princesscomfypearl said: "Omoh its not easy. my dad died a week to my NYSC passing out parade. Congratulations dear, take heart."
@Martins Yetunde Fadekemi said; "Congrats dear. "My own mom died some month to my signout."
@Diamond favour said; "Congratulations I cried the moment she knelt down and carry the sand." Comfort Nse said: "Immediately she knelt down, tears rolled down my cheeks."
See below;
@everythingjennabefine

#viralvideo #rip #congratulations thankyou for making us proud

♬ Rest On Kashy – Anonymous Music